Biographie
Premières lignes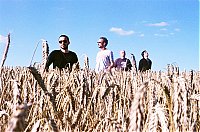 C'est en découvrant la musique du début des années 90, par le biais de l'émission "120 minutes" sur MTV, que Julien Bouchard s'éprend de groupe comme Dinosaur Jr, The lemonheads ou encore Sonic Youth. Après plusieurs essais de formation peu concluants, il se résout a composer seul à partir de 2004. Suite a deux démos, enregistrées avec l'aide précieuse de Régis Metzger, le projet (THE) SILENT DAYS prend forme plus concrètement. Rejoint par Vincent Hermon à la batterie et Régis qui s'occupe de la basse, ils enregistrent alors une vingtaine de titres au studio Microclimat en 2006. Remarqué en 2007 par le label belge "Anorak Supersport", ils signent un contrat et enregistrent leur premier album avec John Roo (Hollywood Porn Stars, Sharko et Experimental Tropic Blues Band).

A travers les 11 titres de son premier album « I am nothing », (THE) SILENT DAYS a entrepris de mixer ses nombreuses influences afin d'obtenir des morceaux mélant la pop sucrée chère à Ben Kweller (Without A Sound) au rock plus brut et lo-fi comme le ferait Sebadoh e.a. (In The Park). De sa collaboration fructueuse avec Ken Stringfellow (The Posies) naît "Any Summer Days", véritable petit bijou de collège rock appuyé par des paroles mélancoliques, qui se révèle être l'un des meilleurs moments du disque. Il a aussi fait appel à la chanteuse américaine Kate Sikora, qui depuis son Japon d'adoption a accepter de poser sa voix mélodieuse sur l'excellent "Never My Eyes".

Sur scène, le trio devient quatuor avec l'arrivée de Edouard Aussedat qui tiendra la seconde guitare et aussi l'un ou l'autre clavier.