Biography
Pure pop-rock'n'roll heaven !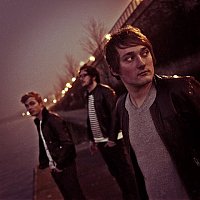 Cousins of Black Rebel Motorcycle Club and Beady Eye, the long lost brothers of Triggerfinger, Black Box Revelation and Van Jets, Elvis Black Stars music is rough and without frills.
With an attitude full of swagger, these sexy boys are full of raw and endless energy that is pure rock'n'roll heaven.
Their new album is direct and powerful, full of pop hooks that touch the heart of the listener.
Taking the stage they present a live show full of true excitement, leaving in their wake a cloud of sweat, cigarettes and beer.
After playing live houses such as Forest National, The AB Box, The AB Club and a number of summer festivals in recent years, Elvis Black Stars will be performing next at Nights Bota to present their soon to be released self-titled debut.
Soon they will be hitting the road to bring their show to new cities and scenes sharing the Elvis Black Stars experience with new audiences, including Summer Festivals, the top music clubs.
The Elvis Black Stars, a sight to behold, exploding soon near you!